Setting a country alight: Indonesia's devastating forest fires are manmade
Thousands of the fires raging through the forests of Indonesia were deliberately started to clear land for industrial use. The results have been deadly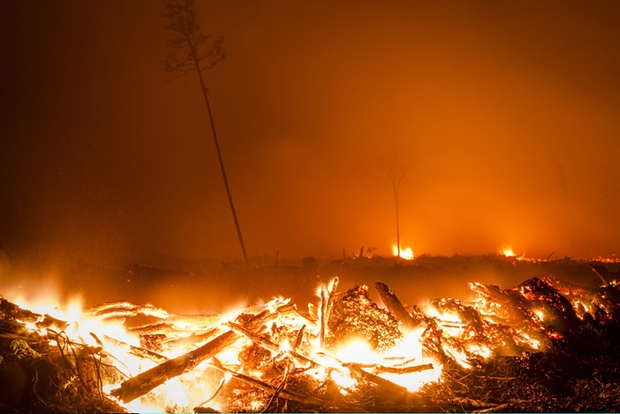 Fires in a palm oil concession in Central Kalimantan, Indonesia. Thousands of fires have been lit to clear land because it is 75% cheaper than other methods.
Photograph: Victor Barro/Walhi/Friends of the Earth Indonesia
Irhash Ahmady and Sam Cossar-Gilbert
Saturday 7 November 2015 11.04 GMT Last modified on Saturday 7 November 2015 11.07 GMT
We are witnessing the worst manmade environmental disaster since the BP gulf oil spill. Huge, out-of-control fires rage through the forests of Indonesia – and the source of many is the practice of deliberately burning the land to clear it for palm oil and paper products.
Thousands of fires have been lit to clear land simply because it is 75% cheaper than other methods. By burning down forests companies can get access to the land and can commence industrial pulp and palm oil plantations.
The blazes are occurring in the peatland forests of Kalimantan and Sumatra, which is a unique wetland ecosystem home to threaten species. Over the past three months, toxic haze from fires has harmed millions of people in Indonesia and is believed to have been fatal for some. The crisis is so bad that Friends of the Earth Indonesia/WALHI is providing face masks and health checkups and evacuating vulnerable groups to safety.
A thick layer of smog has engulfed the country. Data released by the Indonesia's meteorological, climatological and geophysics agency showed that the city of Palangkaraya has become one of the most polluted places on earth. Corporate greed is literally choking the people of Indonesia.
Friend of Earth Indonesia/WALHI and its five regional offices have been conducting investigations of companies suspected of involvement in the fires and triggering the smoke and haze problems in Indonesia. They overlaid the concession maps of the companies, and tracked the names of companies mentioned by the environment and forestry minister. Many of the land concessions of those companies are in the precious peatland area.
Peatland forest being cleared by burning for a palm oil plantation in Indonesia. Photograph: Ulet Ifansasti/Getty Images
Already a number of executives of companies have been arrested for their suspected role in starting illegal forest fires, some of whom supply pulp products to the giant logging corporation Asian Pulp and Paper (APP).
The fires that have been started deliberately are part of a process which usually involves building canals to block water to the beautiful peatlands; thereby drying it out and enabling deliberately lit fires to burn. This drains the life out of these naturally moist tropical forests, drying them out, and enables deliberately lit fires to burn. In time companies and contractors will return to plant endless rows of palm oil and wood plantations in their place.
Many companies have adopted "zero burn" policy positions or other voluntary sustainability measures for their supply chains. APP says it has had a zero burning policy since 1996 and will stop using suppliers involved in burning land. But the current fires demonstrate that we cannot expect companies – and their financiers – to regulate themselves. It is necessary to have binding rules for business to stop these abusive practices wherever they may occur.
In Indonesia the general public and civil society is fighting back – mobilising in the streets, conducting scientific research and organising legal action against the companies believed to be most responsible for the fires, as well as against local and regional governments for neglecting to sufficiently tackle the issue.
The Indonesian government must act in a more structural and systematic way to address this issue, by reviewing all corporations land concessions, arresting executives and dealing out large fines. A national moratorium on peat clearing must be installed to prevent further disasters with massive impacts on people and biodiversity.
However, this is not just a local or national concern. Forest fires are also one of the leading causes of global warming, and in the lead up to the Paris climate summit in December they will be centre stage. Bloomberg estimated that on 14 October carbon emissions from the fires alone reached 61 megatons, almost 97% of the country's total daily emissions.
The economic drivers of these fires are also global, with multinational companies and investment firms putting profit over people. For the palm oil and pulp products produced in the ashes of these deadly blazes will end up in the snack food and printing paper of western consumers.
An orangutan at a conservation center in Palangkaraya, Indonesia, where many of the most serious forest fires are raging. Photograph: Fully Handoko/EPA
In 2014 a Friends of the Earth Europe report highlighted the role that international banks and financial institutions play in funding the exploitation and deforestation of the palm oil industry.
So how can we ensure corporations are held responsible?
Traditionally, international law focuses on the role and responsibilities of states, rather than corporations. In our globalised world, companies operate between different national jurisdictions and are often able to take advantage of this situation to escape accountability.
In July 2015, a historic UN meeting took place in Geneva, beginning a process to address this gap in international law and bring justice to victims of corporate crimes, like those in Indonesia.
We are working alongside the UN Human Rights Council, the Vatican and many diverse governments on a new UN human rights treaty, which aims to establish new and binding rules on transnational corporations.
It is difficult to grasp the immense size and impact of the ongoing environmental and human disaster in Indonesia. The fire and haze could cost Indonesia US$35bn, roughly 4% of Indonesia's gross national product. The neighboring countries of Malaysia and Singapore are also experiencing poor visibility and school closures due to the acute health risks.
Friends of the Earth Indonesia/WALHI is helping to evacuate vulnerable groups, such as babies and infants, breastfeeding mothers, pregnant women and the elderly, to safety.
As forest fires continue to destroy lives and nature, we will continue to work tirelessly from the local to the international level to bring the responsible companies to justice. So that this kind of manmade disaster does not happen again.
Irhash Ahmady is network manager at Friends of the Earth Indonesia/WALHI – and tweets from @newmosette. Sam Cossar-Gilbert is programme coordinator with Friends of the Earth International and tweets from @samcossar.