Man spends 19 years planting trees to save village from drought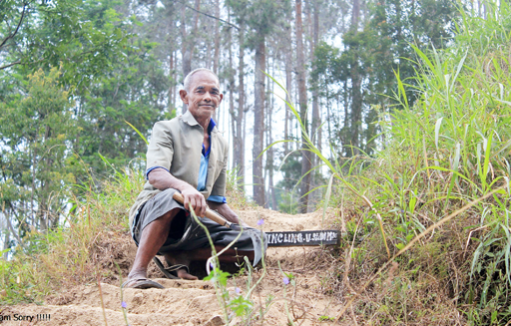 Motivator: Farmer Sadiman poses in a wood in his neighborhood in Dali hamlet, Geneng subdistrict, Wonogiri regency, Central Java. Sadiman is trying to convince locals that the water shortage problem that happens during dry seasons can be partly solved by planting trees on the denuded hills.(JP/Ganug Nugroho Adi)
A 65-year-old man from Wonogiri regency, Central Java, has managed to turn his drought-prone village into a groundwater-rich region by leading a campaign to replant trees on a nearby hill for the past 19 years.
Since 1996, Sadiman, a farmer in Dali hamlet, Geneng subdistrict, has been encouraging local residents to plant more trees on Gendol Hill in an attempt to curb a severe water crisis that used to regularly hit the village, especially during the dry season.
Situated on the southeastern slope of Mount Lawu, which is located in the border area of Central and East Java provinces, the hill was severely deforested because of extensive logging activities and a series of forest fires that took place from the 1960s to the 1980s.
The extreme deforestation made the Gendol River, which used to be the only source of water for the Geneng villagers, quickly dry up, putting local residents into a severe water crisis that lasted for years.
Speaking to The Jakarta Post over the weekend, Sadiman said he first came up with the idea to revitalize the hill when he was tapping rubber from rubber trees on the hill to make ends meet.
"I found out that many rubber trees no longer produced rubber latex. Then I realized that the water crisis was too extreme. Even the tree trunks had dried up," he said.
Feeling encouraged to save his village from the prolonged water crisis, the father of two then used his own money to buy tree seedlings and single-handedly planted them on every part of the hill. Among the trees he grows are banyan and lamtoro.
"Unlike rubber trees that absorb groundwater, banyan trees can retain groundwater. The more banyan trees planted means, the more villagers will get clean water," he said.
Such an effort, however, is not cheap, as banyan seedlings, for example, are currently sold at around Rp 100,000 (US$7.10) per piece.
To keep his campaign alive, for the past several years Sadiman has been growing clove seedlings in front of his house and barters every 10 for a one-meter-high banyan seedling.
Sadiman said many villagers, including his neighbors, used to undermine his efforts, saying that they were wasting time and useless. He also used to find the seedlings that he just planted removed by villagers who brought their cattle to the hill to eat grass.
Sadiman, however, said he did not get upset and instead brought other seedlings to replace the damaged ones. "I just wanted to see the village with reliable water sources again," he said.
After 19 years, Sadiman said he could not remember how many trees he had planted on the previously deforested hill. However, data from Geneng subdistrict office reported that at least 11,000 trees, including 4,000 banyan trees, had been planted over the past 19 years across 100 hectares of land on Gendol Hill and the neighboring Ampyangan Hill.
While 30 subdistricts in Wonogiri have been suffering from a water crisis since earlier this year, Geneng has become one of among the few subdistricts in the regency that seem unperturbed with this year's prolonged dry season.
Every day, water flows from the foot of the hills through pipelines to fulfill the water and irrigation needs of at least 800 families living in Geneng and the neighboring Conto subdistrict.
More residents have also supported Sadiman's efforts by, among other things, providing free seedlings or joining him to plant them in the hills.
"Pak Sadiman is our hero. This village used to struggle with a water crisis, but now we have an abundance of water because of him," Geneng subdistrict chief told the Post.
Suranto, the principal of SDN 2 Geneng state elementary school, also expressed similar praise.
"Pak Sadiman is a living example of sincerity, persistence and hard work. He is a common man who has a big dream to empower his society," he said.
Sadiman, however, said he would need to grow at least 20,000 more trees on the Gendol and Ampyangan hills to further alleviate the current water deficit and ensure that all neighboring subdistricts get enough clean water. "I won't stop planting trees as long as I'm still physically fit to do that," he said.
- See more at: http://www.thejakartapost.com/news/2015/09/01/man-spends-19-years-planting-trees-save-village-drought.html#sthash.90jAHLwJ.dpuf