Footsteps: 3 (Buru Quartet) by Pramoedya Ananta Toer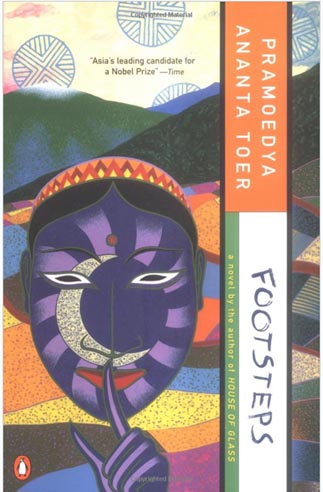 Footsteps: 3 (Buru Quartet)
get from Amazon Footsteps
From Publishers Weekly
A vibrant portrait of a people coalescing into nationhood, this third volume of a projected tetralogy (the Buru quartet) by Indonesian novelist Pramoedya continues the story begun in Child of All Nations and This Earth of Mankind. The protagonist is again expelled Javanese medical student Minke, who now becomes a journalist, then a grass-roots political organizer and eventually a crusading publisher of the archipelago's first Native-owned daily newspaper. Set in the period 1901 to 1912, this novel measures Minke's dream of a unified, multiethnic Indonesia free of Dutch rule, against the harsh realities of colonial occupation. The picture is bleak: oppression, exploitation, slavery and brutal subjugation of the Netherlands Indies' indigenous people by the Dutch military, working in concert with a local ruling elite. Inspired by the life of Indonesian journalist Tirto Adi Suryo, the story is rich in human drama and history. Minke corresponds with Ter Haar, a roving liberal Dutch journalist; battles his old nemesis, racist terrorist Robert Suurho; and matures emotionally through two dramatic marriages. Lane's introduction will help readers new to these books to plunge into the engrossing narrative.
Copyright 1994 Reed Business Information, Inc. -- Dieser Text bezieht sich auf eine vergriffene oder nicht verfügbare Ausgabe dieses Titels.
From Booklist
Max Lane, a former Australian diplomat stationed in Jakarta, translates and introduces the third novel of Toer's epic tetralogy set in the Dutch East Indies at the turn of the century. From 1965 to 1979, Pramoedya Ananta Toer, an outspoken critic of the Indonesian government, was imprisoned in the notoriously brutal concentration camp on the island of Buru. Since reading or writing was all but forbidden, he began to narrate the gripping saga of Minke, a young native determined to understand and to eventually challenge the repressive social strictures that characterized colonial society in Asia in the early twentieth century, to his fellow prisoners. In Footsteps, Minke travels to Batavia, the capital of the Dutch East Indies, to attend medical school. During his sojourn in Batavia, a hotbed of political, social, and intellectual curiosity and unrest, Minke embarks on a personal odyssey of self-discovery, emerging as an active participant in the movement for self-determination. Absolutely stunning historical fiction set against the vivid and violent backdrop of the dawning of a fledgling nation. Margaret Flanagan -- Dieser Text bezieht sich auf eine vergriffene oder nicht verfügbare Ausgabe dieses Titels.