+0,000001% - Exhibition Opening - Sylvia Winkler / Stephan Köperl - 27/05/2014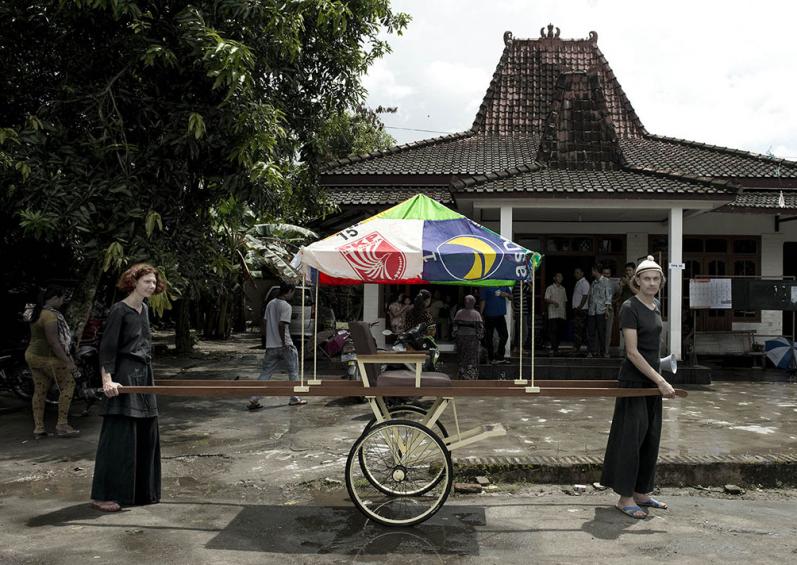 The artist couple Sylvia Winkler and Stephan Koeperl is currently in residence at 'Sewon Art Space' in Yogyakarta. During their
stay they increasingly became interested in the legislative elections. Besides the colorful banners and emotional campaigns,
they have observed the public concern about the voter turnout and the attempts to make citizens going to the polls.
As Winkler/Koeperl are convinced that participation in elections is the core of a democratic society, they wanted to contribute
towards a higher attendance at the polling stations. By a self manufactured vehicle they offered free transportation to the local TPS.
Sylvia Winker (*1969 Austria) and Stephan Koeperl (*1966 West-Germany) have worked together for over a decade and use public intervention
as a medium to share their social and political views on issues of the contemporary society.
Pasangan seniman Sylvia Winkler dan Stephan Koeperl saat ini tengah menjalani residensi di SewonArtSpace, Yogyakarta.
Selama masa tinggalnya, mereka memiliki ketertarikan khusus pada Pemilu Legislatif. Selain panji-panji berwarna-warni dan
kampanye yang penuh emosi, mereka mengamati kepedulian publik akan jumlah pemilih yang hadir di TPS serta upaya-upaya
untuk membuat para warga untuk datang ke TPS dan ikut memilih.
Winkler/Koeperl yakin kalau partisipasi dalam pemilihan umum adalah inti dari sebuah masyarakat yang demokratis, maka
mereka ingin turut berkontribusi guna membuat banyak orang ikut serta dalam Pemilu.
Menggunakan kendaraan buatan sendiri, mereka memberikan jasa transportasi secara cuma-cuma ke TPS setempat.
Sylvia Winkler (lahir pada tahun 1969 di Austria) dan Stephan Koeperl (lahir pada tahun 1966 di Jerman-Barat) telah bekerja
bersama-sama selama lebih dari 10 tahun. Mereka menggunakan intervensi publik sebagai sarana untuk menyalurkan sudut
pandang sosial-politik mereka akan isu-isu yang ada pada masyarakat kontemporer.